Bioline Agrosciences will be at ABIM !
From October 21st to 23th, our team will welcome you at the ABIM on BOOTH 87!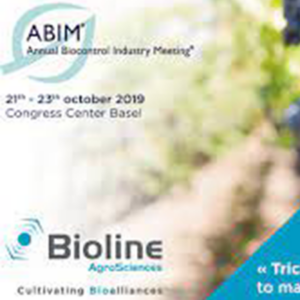 On monday 21st October will begin the annual Biocontrol Industry Meeting in the Congress Center Basel (Switzerland).
ABIM is internationally recognised as the unrivalled meeting place for the biocontrol industry.
As a major player in the biocontrol industry, Bioline Agrosciences and its team of experts in IPM strategy will be there to welcome you on Booth 87!
Discover and learn about Tricholine Vitis
Don't miss Dr. Caroline Reid's conference on tuesday 22th and learn about Tricholine Vitis, the new biosolution to control grape pests ! Caroline Reid is our senior technical lead for Northern Europe area, but this expert in biocontrol is also the IBMA UK chairman.
Her talk will be given on tuesday 21th at 13.30 in the Montreal Hall, at the far end of the second floor foyer of the Basel Congress Center (above the exhibition hall).
See you next week on booth 87!