Discover our New Generation Bugline strategy : your foundation for reliable Thrips control !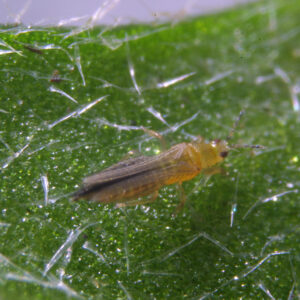 Thrips might seem like they are innocent, slender, fringed-winged insects, but those of us with experience know they are actually minuscule thieves who destroy harvest quality, transmit diseases and cost hundreds of thousands in crop losses due to their rasping-sucking mouth parts !
Like many growers who are concerned about this pest, you are probably looking for the most reliable option for year round thrips control? You're in the right place !
With the new Generation Bugline strategy, combining new products together with extensive field trials and expertise, Bioline Agrosciences provide you the best program to protect naturally and efficiently your crops from Thrips.
The recipe of success !
The new generation Bugline strategy is based on three key products :
1. Amblyline loose application
One application of Amblyseius cucumeris provides protection from day 1.
2. New Generation Bugline
A breeding populations of Amblyseius cucumeris to give continuous protection.
3. Mitefood
Feeding the predatory mites to strengthen the populations and sustain the predator even when thrips are not present.
Do you want to discover more about our New Generation Bugline strategy ?
Stay tuned ! More information, tips and advices will come over the coming weeks !
Or click here to see the full presentation of the strategy !